Edit: Oops! I actually forgot to press the "Commit" button :) Now you can get the new version!
Here is another update of your favorite plugin, the ubermighty Admin Drop Down Menu. I'll make it short:
Fixed: a bug with Safari & OSX that was causing sort of blank screens. Thanks to Dale for being a tester for me. He told me that everything looks fine on his Mac with Safari 3.1.2, Firefox 3.0.1, Camino 1.6.3, Flock 1.0.8, Netscape 7.1, Navigator 9.0.0.6 and Sunrise 1.7.4 :)
Improved: support for Fluency which has just been updated too
Improved: support for WordPress Mu, which gets its own set of cute menu icons
Added: translations, in French and Italian thanks to gidibao
Improved: breaking long menus, which is muuuch smarter and nicer now (see below)
Improved: various bits of PHP and javascript code to minimize impact on global warming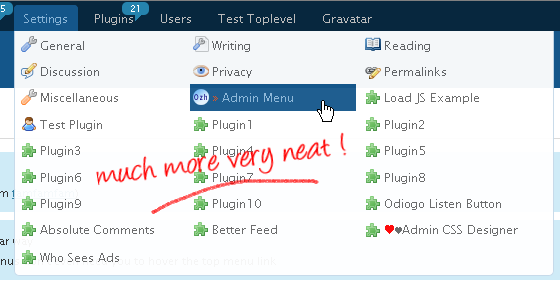 Get the new version now! I don't plan on adding any new feature in the near future, unless someone makes a killer suggestion or reports an atrocious bug. Next stop will be working for WordPress 2.7 compatibility, but I won't touch the plugin before a beta or a release candidate for 2.7 is out.
Shorter URL
Want to share or tweet this post? Please use this short URL: http://ozh.in/j0
Metastuff
5 Blablas