Better Feed is a plugin for WordPress that allows you to enhance your feeds with several highly customizable features.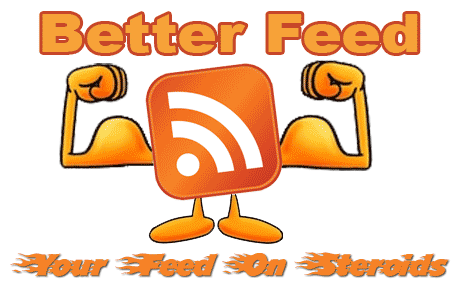 Features
Using a convenient interface with real time preview, Better Feed will allow you to add anything below each entry in your RSS feed. It also brings back the ability to split your feed with "Read More" links, just like your blog posts.
Add "Read more" links
On your site, you can split post on two parts, teaser and body, using the tag <!–more–>. Why not have a "Read more" link as well in your feed, for longer posts, or when you want to tease and keep the surprise off the feed ?
(By the way, while I'm at it : "summary" feeds truncated after 40 words just suck big time. Read more)
Add a copyright notice
Concerned with content stealers reproducing your posts automatically somewhere without giving you credit ? Why not add something like "© Joe – 2005" and a link to some neat Creative Commons License ?
Add the number of comments
When you find an interesting post via your feed reader, you often have to check the website for new comments, or to subscribe to the comment feed. Why not add, at the end of every RSS item, something like "13 comments", just like in your blog frontpage ?
Add a "Add to del.icio.us" link
Let your readers bookmark your entries right from within their RSS reader
Add a link for incoming links in Technorati or Google
Why not add a handy link to quickly check who's linking to your post ?
Add anything
There's so many stuff you could think of that I just can't list them all :)
Download
Download the plugin :
wp_ozh_betterfeed.zip
Extract and upload to your blog, preserving directory structure if any.
Note: download counter here and stats on wordpress.org may differ and reflect the number of downloads before this plugin was hosted on the plugin directory
Once you're done installing it, head to "Settings" and then "Better Feed". Everything is configured and tested from there.
Please note
A few things you might not get on first run that will save me some support:
If you include the number of comments in each feed item, be warned that some feed readers will display an item as "New" every time someone comments on it. It's normal, and it is how I intented it to behave so following conversation is easier than ever.
If you're using Feedburner, your feed won't immediately show changes after you've activated the plugin. To do so, go to your Feedburner Dashboard → Troubleshootize → Synchronize.
You won't notice any change if you're viewing your feed with your regular browser. Use a feed reader, or this simple service I set up especially for you: RSS 2 HTML
License
This plugin is released under the terms of the BAI & SMYF License. BAI means "Blog About It". Like the plugin? Let your readers know! SMYF stands for "Show Me Your Feed", so if you happen to use my plugin, just tell me so I can see what you've done (and maybe subscribe to your feed if it's cool !)
Shorter URL
Want to share or tweet this page? Please use this short URL: http://ozh.in/kt
Metastuff
681 Blablas
Leave a Reply