Absolute Comments allows you to reply to comments right from the email notification. It also automatically fills the reply with the commenter's name (so if you reply to Joe, your comment will be prefilled with "Joe » " for your convenience)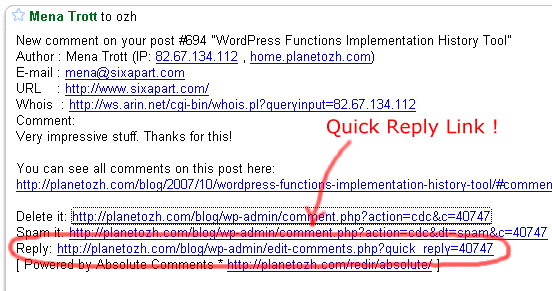 There's no setup, no setting. Just upload, activate and forget.
Download Absolute Comments
This plugin is for WordPress 3.1+.
Older version
Absolute Comments used to be a feature packed plugin, back in the WordPress 2.x days. WordPress 2.7 implemented most of these much needed features (reply to comments from the Edit Comments page, those stuff you don't even believe weren't always part of WordPress). Older versions are still available but totally unsupported, obviously.
If you like this plugin and you feel it enhances your blogging and community managing experiences, please make my day and simply blog about it to let your readers know about it. They might like it too:)
Feedback
I'm closing the comments here. This post is attracting 80% of my spam and I'm tired of manually moderating messages. If you have a question, ask your mom :)
Shorter URL
Want to share or tweet this page? Please use this short URL: http://ozh.in/kq
Metastuff
402 Blablas