One of the sites I'm running is a long established community website with zillions of posts and bazillions of comments. The whole stuff is powered by a home made CMS written in Perl, something I did nearly 10 years ago and that is totally outdated today. For instance, there were no such things as "comment spam" back in that time, and dealing with this plague a couple of years after you've totally forgotten how your own stuff works is a real pain to deal with, believe me.
I finally decided to, guess what, migrate this site to WordPress. I wrote a custom importer (my half baked Perl CMS was using flat text files) and the result is…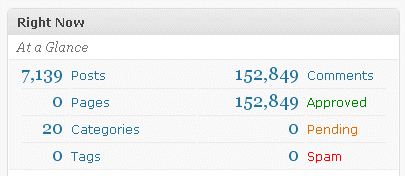 Yep, so far, so good :)
Shorter URL
Want to share or tweet this post? Please use this short URL: http://ozh.in/m9
Metastuff
6 Blablas
Leave a Reply
Read more ?