Absolute Comments allows you to reply to comments right from the email notification. It also automatically fills the reply with the commenter's name (so if you reply to Joe, your comment will be prefilled with "Joe » " for your convenience)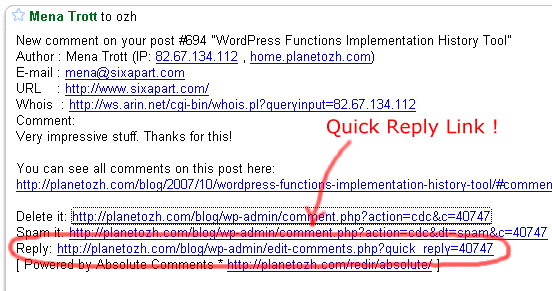 There's no setup, no setting. Just upload, activate and forget.
Download Absolute Comments
This plugin is for WordPress 3.1+.
Older version
Absolute Comments used to be a feature packed plugin, back in the WordPress 2.x days. WordPress 2.7 implemented most of these much needed features (reply to comments from the Edit Comments page, those stuff you don't even believe weren't always part of WordPress). Older versions are still available but totally unsupported, obviously.
If you like this plugin and you feel it enhances your blogging and community managing experiences, please make my day and simply blog about it to let your readers know about it. They might like it too:)
Feedback
I'm closing the comments here. This post is attracting 80% of my spam and I'm tired of manually moderating messages. If you have a question, ask your mom :)
Shorter URL
Want to share or tweet this page? Please use this short URL: http://ozh.in/kq
Metastuff
402 Blablas
Pages: [1] 2 3 4 5 6 7 8 9 » Show All

WordPress 插件:Absolute Comments…

Ozh 今日终于发布了他的最新 WordPress 插件:Absolute Comments。这个插件的功能相信大家都很喜欢,那就是允许 WP 管理员在后台留言管理页面中以 Ajax 方式直接对访客的所有留言进行快速回复,…..

Ah, this plugin is like a dream come true. I have just one request/suggestion. Could you also add a feature so that when you respond to a guest's comment your response is emailed to them? Right now I use the comment responder because not everyone checks back for responses or can find their way. :)

thnaks for the plugin ozh is very useful!!!

You know what would be really cool?
Integration with Comment Mailer. So they you could really reply to your commentors.
Nice plugin idea, idea :)

Oh, wow, very nice!

Elaine » adding the ability to send emails sounds cool, I'll have a look at this. As for adding support for other plugins, this is something I want to avoid when possible, because maintaining compatibility while other plugins' code evolve is a real pain.

Brilliant plugin. This is how WP's comments should have functioned out of the box.

Hmm, hold the phone. I'm getting the following error when making a comment in the admin area:

Parse error: syntax error, unexpected T_OBJECT_OPERATOR in /home/electro/public_html/wp-content/plugins/ozh-absolute-comments/includes/_latest_comment.php on line 23

Any thoughts?

Ok, this is interesting. Turns out that my comments did post to the database. But that error occurred only after the plugin attempted to display the results.

Permissions problem of some sort?

"adding support for other plugins, this is something I want to avoid when possible, because maintaining compatibility while other plugins' code evolve is a real pain"

Understandable.

"adding the ability to send emails sounds cool, I'll have a look at this"

Great. Sounds cool.

Rob » OK, got it. I develop on PHP5 and your server is running on PHP4, and this is a PHP4 only error. Going to fix this in the next minutes.

Edit: this should be fixed. Anyone on PHP4 please re-download the file (I didn't bump the version up)

Plugin sounds great – I liked the idea of the other comments manager plugin but the separate page just didn't make sense to me.

Unfortunately I can't seem to post any comments. If I use the inline posting I get the error…

"Error (duplicate content or posting too quickly)"

If I post a quick reply I get the error

Fatal error: Call to undefined function: add_options_page() in /home/.oedipus/binarysun/binarymoon/wp-content/plugins/wp-contact-form/wp-contactform.php on line 342

so I wonder if there is some sort of plugin conflict going on somewhere?

Would love some help so I can get this working :)

Thanks in advance

hello ozh

thanks for this plugin even he dosn't work on my blog (wp 2.2.3).

i got everytime a strange error message on my browser.

"The page at http://blog.superdesign.ch says:
Fault (double coment or to fast publishing?)
action terminated"

this on camino (gekko engine, macosx 10.4.10).

do you have any idea what to do?
thanks

same problem like BEN.

sorry for my bad english on my previous post.

Ben & Kux » this message pop when the comment has not been posted for some reason. I heavily suspect WP-ContactForm, the crappiest plugin on earth with ugliest broken code I've ever seen. How are things when you disable it ?

Ok – that fixes it. Now I need to find a new contact form plugin.

BTW I am from England but your flags say Italy. Maybe you need to update your IP database :)

Must admit the second error gave me the impression that plugin was the issue. Didn't realise it was such a bad one though – the advantage (disadvantage?) of plugins.

Thanks

As before…
Awesome plugin…
But just one thing, change the url of my blog…this one is for my partner
hehe
mine is http://www.dkcell.com.br/design
Thanks for credits…
If need anything else tell

@Ozh

thanks. it works now.
please tell us wich CONTACT PLUGIN do you use.

excellent and powerful !

Any reason why the "reply" link doesn't show up in the comment moderation queue? Since I moderate all my comments, being able to reply from there would be ideal, personally. Thanks! ;)

Chris » there's no "Reply" link to comments in moderation because, well, I thought it would be mostly useless :) If you want to add it, it's pretty simple, add the following at the end of the main file:

add_filter('comment_moderation_text', 'wp_ozh_cqr_email', 10, 2);

I may add this as an option in next release.

kux » I'm not recommending any contact form plugin. The one I use (this) is less than optimal and the code mostly sucks (but at least it's not breaking every plugin). I never really took some time to search for something decent :)

Great plugin. I am real tired of having to moderate a comment and then go back and find the post and then reply.

Stephan » I think next release will have the "Reply from moderation notification email" link, so you will be able to reply & moderate all at once in the same admin screen. How cool will this be ? :)

Nice plugin, Ozh. I've been looking for something like this for a while. If I may, I'd like to suggest to kux and Ben that they check out Mike Cherim's "Secure & Accessible PHP Contact Form" plugin for WordPress over at http://green-beast.com/blog/?page_id=136

I'm not sure right now how well it works with your plugin, but if I get some free time this weekend, I'll be more than happy to take the two out for a test spin on a blogging resource site I'm in the process of developing and let you know how well the two work together.

Hey, Ozh,

For some reason this plugin is putting a terrible strain on my database. When I add a new reply comment from the admin panel, it takes upwards of 30-60 seconds to post, and in the meantime, locks down any page calls on my site until the plugin releases the database again. I don't know if anyone else is having this problem, but it's terribly inefficient for me. With Better Comments Manager, the submit-to-post time on comment replies was virtually nil, so I'm not really sure how your plugin queries the DB differently. Just something I wanted to point out for your investigation, in case it's a more widespread problem than with just me.

Dan Schulz » thanks for the contact form suggestion. It shouldn't conflict with my plugin, just as any plugin shouldn't conflict with another. The problem with WP-ContactForm is a terribly inefficient code which gets executed no matter what page you're on.

Just a thought… Is there any way to not send email notifications for comments written by the author/admin? There used to be a separate plugin for this (can't remember the name) but it had spotty success.

Just curious if this would even be possibly by your plugin.

Jim » when the plugin adds a comment it's just like posting in the regular comment form on the page post. It takes as many queries, no more, no less. Better Comments Manager does roughly the same thing, there shouldn't be any noticeable difference between both.

Rob » I don't get it… I receive no mail when I post a comment. Are you using different logins maybe? WP is made so that email notifications are not sent to user currently logged in & posting, my plugin does nothing for or against this.

Ahh, nice to see, it's out now! And thanks for the backlink. :)

This is a great plugin! Thanks so much!! Can't wait to use it and talk all about it in my own blog!!

Hi OZH,

I've got error when reply the comments, "duplicate comments"

Why ?

Raffaell » don't know. Maybe it's because you're duplicating comments?

I'm getting the following when trying to post a reply:

"Error (Duplicate Comment, or posting too quickly ?).
Aborted"

Alec Peden » you probably have a conflicting comment plugin.

I receive no mail when I post a comment. Are you using different logins maybe? WP is made so that email notifications are not sent to user currently logged in & posting, my plugin does nothing for or against this.

Hmm, curious! I suspected that your plugin (as cool as it is!) wouldn't affect author notify's. That's really odd that I do get them. I have only one login, set to administrator, ID of 1. I wonder if one of the other roles would work, like "author".

Rob » Well, same thing for me, and I received no mail from all my blogs.

Ahh very cool, thank you. I would also like to see the email function, it'd be cool to let the commenters know I've replied to them. :)

OZH,

Already turn off any comment related plugin, but why i still got this message:

"Error (duplicate content or posting too quickly)"

?? and Im not use wp contact form

Hye, ozh, je dois bouletiser quelque part mais une fois unzipé et uploadé dans le rep plugin ton machin n'apparait pas dans la liste des plugins …

gni, c'est réglé

hey thats really2 good stuff, i luv that, thanks :)

…because those long ping-back/trackback URL in the name field 'absolutely' break the designs of the WP theme =( now you know why I have a longggggg name =).

theseoblogger » this is not the purpose of this plugin. There are already plugins doing something similar (for instance WP Chunk), and this also often a CSS issue (word-break)

Very nice. It would be great if you could provide a 'draft' option, so that I can recheck it at a later time before actually replying.

Krishna » Draft… Interesting feature request. This would require more hacking, because there is no way in WP as is to mark a comment as pending, but that's something I'll keep in mind. Thanks for your input!

this's a great plugin, i using it, thanks

I've basically been doing nothing. I've just been sitting around waiting for something to happen, but I don't care. Shrug. I can't be bothered with anything recently. My mind is like a void.

I'd like to use this, but when I have it activated and go to use it to reply to a comment, I get the following popup error message: error (Duplicate response or posting too quickly), aborted.