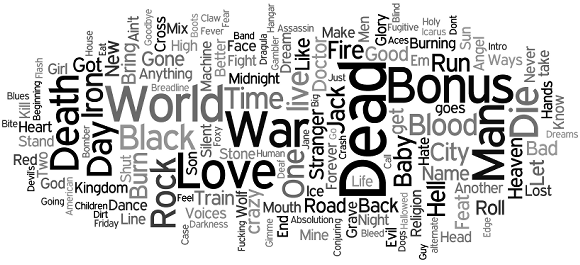 Shorter URL
Want to share or tweet this post? Please use this short URL: http://ozh.in/jf
Metastuff
5 Blablas
How did you create that?

Take a look on wordle.net ;)

There you can generate Tag-Clouds from any Tags you want in various styles ;)

Robin » I exactly used it

Dempsy » simply exported my song list, filter duplicates out, and play with Wordle

Wordle is fun! I wonder if you could create an api from last.fm with this… LastGraph is cool but wordle+last.fm would be an interesting project…

Doug » Actually, I almost went into this. But parsing the iPod DB was too much of a pain, and I wasn't sure how compatible it would be with all the iPods.
Leave a Reply
Read more ?