Light. Clean. Bare. Minimalist. Simple. Minimalissimplistic.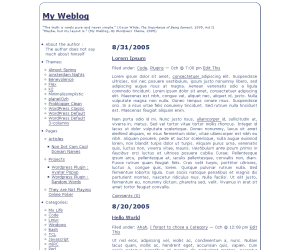 (click to enlarge)
A Simple Theme for WordPress …
Minimalissimplistic is a theme for WordPress that has the following features :
Lightest layout : few SQL queries, no image, easy on resources and bandwidth
Elastic design : mouse scroll + control = everything resizes in harmony
Did I mention it's minimalist ?
Yet nice. You'll love it. Ok, like it. Anyway I promise you won't hate it.
… but more than a simple Theme
Minimalissimplistic was made to serve as an example of what WordPress Theme Toolkit makes possible in just a few lines of code : through an admin menu, you can configure several things to suit your liking :
Overall width of the layout
Menu alignment (left hand or right hand)
Text color
Background color
Optionnal "Aside" category
… and more
The point here is not to show how cool these features are (this is pretty basic stuff :), but how simply I've implemented them into the theme thanks to WordPress Theme Toolkit.
Indeed, adding an admin menu to the theme and writing functions to handle options required … 10 lines to edit. Find out about WordPress Theme Toolkit and the potential of this tool for Theme authors.
You'll find everything that was needed to create the admin menu in Minimalissimplistic in the theme file functions.php. Look at this file … and be amazed by its simplicity.
OK, I want to try this theme
Sure ! Go ahead my friend. Get the following file and extract it in yourblog/wp-content/themes (relative path "minimalissimplistic" included in archive). Then, go to the admin area of your blog and activate the theme. Ready ?
Download Minimalissimplistic ! (or just view zip content if you're curious)
Shorter URL
Want to share or tweet this page? Please use this short URL: http://ozh.in/lj
Metastuff
13 Blablas
[…] WordPress Theme Toolkit es obra de http://planetozh.com/blog//about/, quien en su propio blog nos ofrece todos los detalles del invento. Y algo que a muchos les va a gustar: ha creado una plantilla, Minimalissimplistic, con la herramienta ya implementada para que todo aquel que quiera pueda ir probando la herramienta. Te dejo la dirección de descarga de la plantilla. […]

i like this theme, actually, and i'm all about testing an admin menu. i am fairly handy with html and php, but not quite handy enough yet to make major changes to a theme. one question i have – in the thumbnail up there your sidebar is on the right, but in the enlarged gif it's on the left. how can i change which side the sidebar is on? it seems like it should be really simple but i haven't yet figured out which code to change.
thanks :)

ok, so i installed it but the admin menu has not-so-serious options on it. is there an easy way for me to edit the options that show up? at this point it seems like i could just edit the files and be done…

am i a psycho? :)

There's no code to change. Sidebar is on the left. Or on the right. It's up to you really and all in the admin area :)

*doh*
*doh*
I think for all this time an outdated test file has been here instead of the real theme :/
Re-download it, should be better now… Sorry for this :P

Argh… I got this error…

Fatal error: Cannot redeclare mytheme_about() (previously declared in /home/sbishere/public_html/wp-content/themes/minimalissimplistic/functions.php:84) in /home/sbishere/public_html/wp-content/themes/minimalissimplistic/functions.php on line 83

BTW: I am using WP2 BETA RC1… Do I have to install the 'Toolkit for the Theme to work?

Doh ! My bad, I had forgotten to update this theme with the updated Theme Toolkit. Download it again (or download just the new theme toolkit file) and it should be ok. Sorry !

I am looking for some code to modify the sidebar of your minimalissimplistic theme to display the last 10 posts. Any help would be appreciated. BTW: great theme.

I can't seem to download this file, every time it downloads It corrupt. could you email it to me please?

@David
Try right clicking on the file and choosing "FlashGot Link" to download (You need to have Flash Get installed as your download manager with the "shell" access allowed when you install Flash Get – Most marketers use Flash Get anyhow). Usually works when a straight download corrupts the downloaded files. cheers. Rox

Thanks for this Wondeful Theme. I used it with some tiny changes. But I have al little Problem and I found no Solution:

If I look on a Single Post my Background-Image was not shown. I wonder why… or should I dont see the Wood in front of all the Trees??? (bcause I new with WordPress) :-)

Hi and thank you for this nice theme!
there seems to be some problem when trying to open the zip with the mac os x (my v.10.5.6) archiving tool though.. dunno what it is but it complains about a forbidden action (directly translated from swedish). no biggy since 7zX has no problem unpacking it!
thanks again, itll soon be up and running on my page.
Leave a Reply